By Wally aka Waleo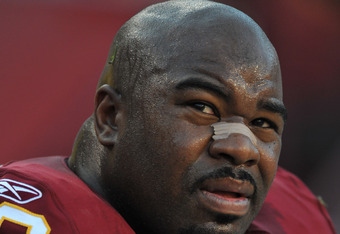 If you have been a regular on our podcast Urban Sports Scene you would know that I have been an Albert Haynesworth supporter. I've been touting the Allen Iverson line, "we talking about voluntary camp minicamp, not the game or mandatory events but "voluntary camps." He missed voluntary minicamp but he stated that he would come for the mandatory sessions. Mandatory minicamp has rolled around and now "Big for Nothing" Haynesworth is nowhere to be found. Man as a Washington Redskins fan, I've been hoodwinked, bamboozled, and made a fool, we landed the "Big for Nothing" which the Redskins signed a year ago and he's now trying to screw us like one of his stripper friends (but at least he paid her back). I just can't believe that he's flaking over playing nose tackle. Matter of fact I've heard that he would be playing a lot of defensive end. "Big for Nothing" you owe us Redskins fans more than this. Last year we saw the "Big for Nothing" get hurt on every play rocking an oxygen mask. It just seems like the "Big for Nothing" complains about everything. Last season it was Greg Blache not using him correctly and now this. "Big For Nothing", I know a hustler when I see one and you are the biggest soft spoken fraud that I've ever seen.
Let's be real this dude doesn't want to win. He just wants to satisfy his ego. In his "Big for Nothing" statement he said, "After many years in the NFL, I know what it takes for me to perform at my highest level. My number one goal has always been to help my team win -period." Really?? Didn't he leave a Tennessee Titan team that was 13-3 and competed for a Superbowl bid to join the Redskins? He isn't about winning, he's all about himself. London Fletch was right; "Big for Nothing" is selfish. Haynesworth go ask to be traded, you ain't going nowhere. If I was Daniel Synder, I'd let him sit out the whole season if Haynesworth played that card. Or if he decided to comeback and half-ass it I would let him sit all year. And I wouldn't just do it for one year; I would do it for multiple years till the "Big for Nothing" is washed up and useless then I would cut his butt.
The Redskins are trying to build a championship team under Coach Shanahan. They are not trying to be in a 4-12 environment anymore. So if the "Big for Nothing isn't on board then it's time for him to get that DNP and waste his paycheck at Ervings (D.C. Metropolitan area strip club).